Contact Information
Important: Please review and update your information if it has changed. Please note that the Brazilian Blowout Anti-Aging treatment must be performed by licensed cosmetologists only.
Please familiarize yourself with the information about Rewind Anti-Aging Reparative Service and Anti-Aging Aftercare listed below.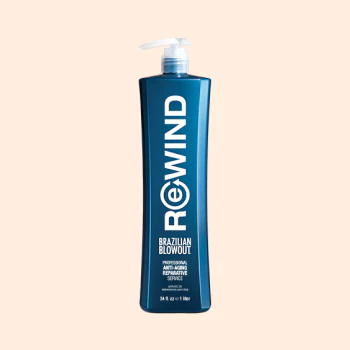 Did you know that Rewind?
TARGETS + CORRECTS DAMAGE that can cause hair to prematurely age
Is formulated for use on ALL HAIR TYPES AND TEXTURES
Can be ADDED ON TO ANY SERVICE with no change to schedule
CAN GENERATE $15,000* in additional annual income
Should be performed after color services to IMPROVE COLOR DEPOSIT and RETENTION
PROTECTS gray, silver and non-pigmented hair from yellowing/discoloration
The Technology
Power Band Molecule Groups + Biolipid Molecule Groups
Fill in and repair broken bridges
The Results
Restoration of youthful shine
Improved retention of natural pigment
NEW! Anti-Aging System is an innovative care regimen that guarantees the longevity of the REWIND service and is a must have for anyone who wants to delay or reverse the signs of aging hair.
Please take a moment to watch the instructional video below.
Brazilian Blowout Online Anti-Aging Certification Review
Please Complete All Questions Below:
Congratulations, you're a Certified Brazilian Blowout Anti-Aging Expert!
Now that it's official, take these EASY steps to tap into this exciting new source of service and retail revenue…RIGHT NOW!
1. Schedule Free 1-1 Training Session Now
Purchase the Brazilian Blowout Anti-Aging Service + Retail Bundle within 24 hours of completing your Anti-Aging Certification.
Orders placed today receive:
Anti-Aging Expert Certificate to display at your station.
**Free 2-day shipping valid for first time orders and California orders only.